Cheap DIY
DVD Laser Diode Engraver
Mechanics | Electrical | Computer control
Built a computer-controlled laser machine that cut and engrave plastic.Components used a DVD burner and scanner.

DVD component


Metal framework,5v Stepper motor with complete mechanism,laser diode with lens and focus coil.


Color Scanner.

Metal framework,12v Stepper motor with complete mechanism.

Scanner controls the X axis
dvd burner the Y axis

Attached the dvd metal framework to the scanner.
Male parallel port cable wiring.


Parts
Resistor
5x1k , 4x470R , 1x5R6 5w , 1x2k2 , 1x220k , 2x330R , 1x1R-5R 5w
Potentiometer
1x1k , 1x10k
NpN Transistor

5x2sd882 , 1x2sc945

IC

LB1649 ,LD1117


Switch-momentary NO

x2


Diode

4x1N4007


Capacitor

2x100n , 1x10n


Polarized Capacitor

1x1mf

The program I'm using to control the parallel port is "Mini CNC Laser Engraver".
You can download the program Here -> LaserEngraver.exe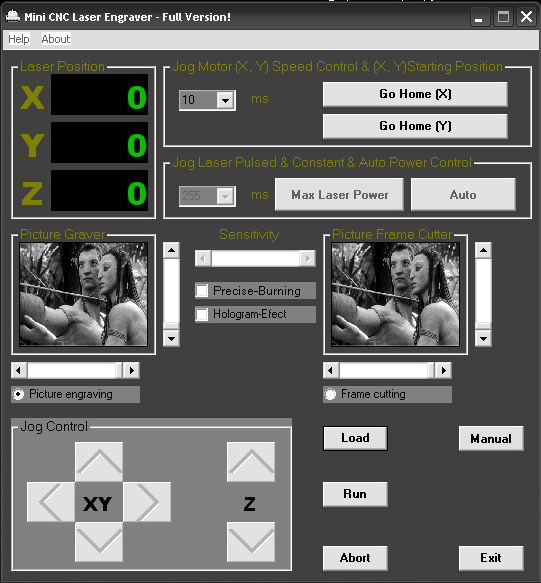 Please note that you first start the program, and after start the power supply for drivers!
Always use laser IR blocking protection glasses when working with lasers!!!
The light from the IR laser modules is dangerous, it will damage your eyes if looked directly into it.